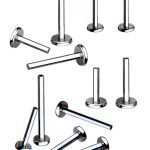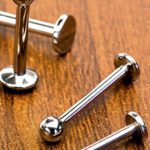 Implant Grade Titanium Labret Bar
€9.00
SKU:

T-ILMPIN
Categories: Basics, Implant Grade Steel / Titanium
Tags: Cartilage Piercing, Conch Piercing, Helix Piercing, Lobe Piercing, Medusa Piercing, Nose Piercing, Piercing, Piercing Jewellery, Studs, Tragus Piercing
Our Implant Grade Titanium Labret Bars are Internally Threaded or Threadless and are highly polished to a mirror finish.
All Threaded or Push-In Piercing Jewellery listed on our website is priced with a Labret Bar included. Purchase this item if you need an extra bar.
Internally Threaded Labret bars will come with a complimentary 3mm Ball top.
Material: Implant Grade Titanium F-136
Threading: 0.8mm, 0.9mm, 1.2mm, Threadless
Dimensions: From 4mm to 16mm, contact us for the extreme sizes
Disc Back: 2.5mm, 3.0mm, 4.0mm, 5.0mm
Gauge (Thickness): 14g (1.6mm), 16g (1.2mm), 18g (1.0mm), 20g (0.8mm)
| | |
| --- | --- |
| Jewellery Threading | 0.8mm, 0.9mm, 1.2mm, 25g Threadless Pin |
| Labret Bar Disc Back | 2.5mm, 3.0mm, 4.0mm, 5.0mm |
| Labret Bar Gauge (Thickness) | 14g (1.6mm), 16g (1.2mm), 18g (1.0mm), 20g (0.8mm) |
| Labret Bar Length (mm) | 5mm, 6mm, 7mm, 8mm, 9mm |
| Material | Implant Grade Titanium F-136 |
| Metal Colour | Titanium / Steel |