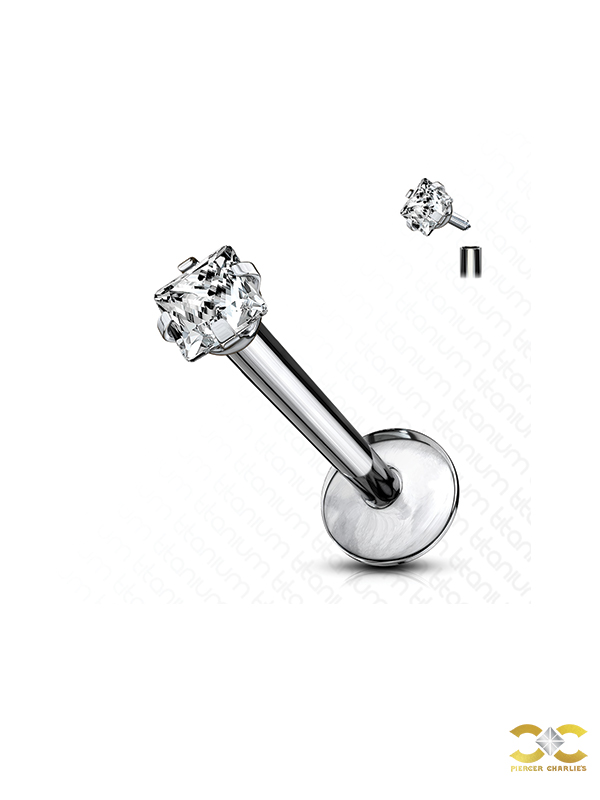 Prong Set 2mm Square CZ Threaded Stud Earring, Titanium
€20.00
SKU:

T23LI4
Categories: Cartilage / Lobes, Implant Grade Steel / Titanium, Studs, Studs
Tags: Cartilage Piercing, Conch Piercing, Cubic Zirconia (CZ), Forward Helix, Helix Piercing, Lobe Piercing, Medusa Piercing, Nose Piercing, Piercing, Piercing Jewellery, Studs, Tragus Piercing
Prong Set Square CZ Push-In Stud Earring is a Piercing Jewellery with a Flat Back Labret Bar.
An earring you can wear all the time, at a Cartilage Piercing, a Helix Piercing, a Medusa Piercing a Tragus Piercing, a Forward Helix Piercing, a Nose Piercing or a Conch Piercing.
Featuring Cubic Zirconia Crystals set by hand. Hand polished to perfection.
Material: Implant Grade Titanium F-136
Stones: Cubic Zirconia
Dimensions: 2mm
Threading: Internal Thread 0.9mm for 18g/16g
Labret Bar: F-136 Titanium
Recommended Placement: Cartilage, Helix, Conch, Medusa, Tragus, Forward Helix, Nose
Contact Us for any custom metal colour or gemstone.
| | |
| --- | --- |
| Gemstones | Cubic Zirconia (CZ) |
| Gem colour | Clear |
| Size | 2.0mm |
| Jewellery Threading | 0.9mm |
| Labret Bar Disc Back | 3.0mm, 4.0mm |
| Labret Bar Gauge (Thickness) | 16g (1.2mm), 18g (1.0mm) |
| Labret Bar Length (mm) | 5mm, 6mm, 7mm, 8mm, 9mm |
| Material | Implant Grade Titanium F-136 |
| Metal Colour | Titanium / Steel |