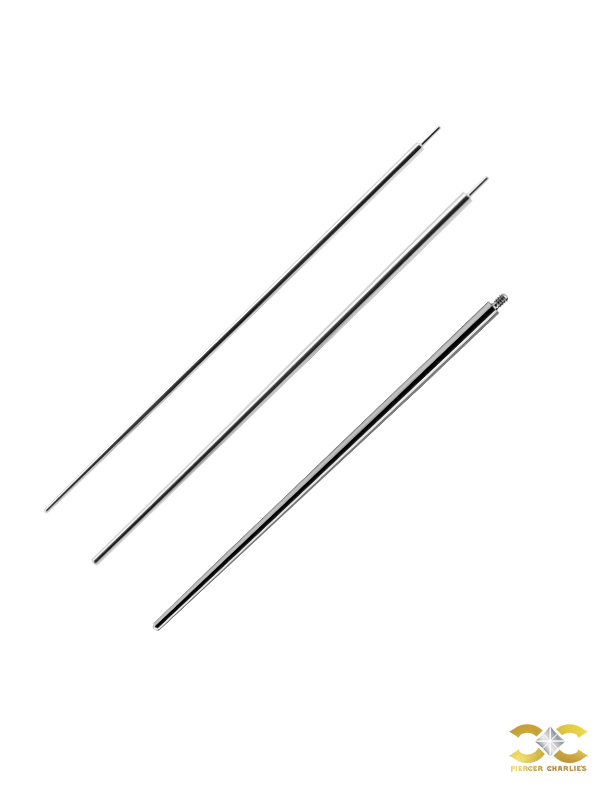 Taper Pins assist in inserting a Labret Bar, in an existing piercing.
They can be very useful in stretching the piercing to the proper size, to accept your jewellery.
They can also assist in finding the entrance and exit, and the Labret Bar can easily follow afterwards.
Available in many thicknesses: 20g, 18g, 16g and 14g
Threading types also vary, 0.8mm, 0.9mm, 1.2mm, and 25g Threadless Pin.
The thickness should be the same as your bar, for a smooth transfer.
The threading will securely match the appropriate Labret bar threading, however all the bars can follow after a Threadless Pin.
WARNING: This is NOT a Needle and should never be used to puncture new piercings!
Material: Implant Grade Steel
Stones: –
Dimensions: –
| | |
| --- | --- |
| Weight | 1 g |
| Material | Implant Grade Steel F-138 |
| Metal Colour | Titanium / Steel |
| Gauge (Thickness) | 14ga (1.6mm), 16ga (1.2mm), 18ga (1.0mm), 20ga (0.8mm) |
| Jewellery Threading | Push-In (threadless), 0.8mm thread, 0.9mm thread, 1.2mm thread |
Q & A
There are no questions yet