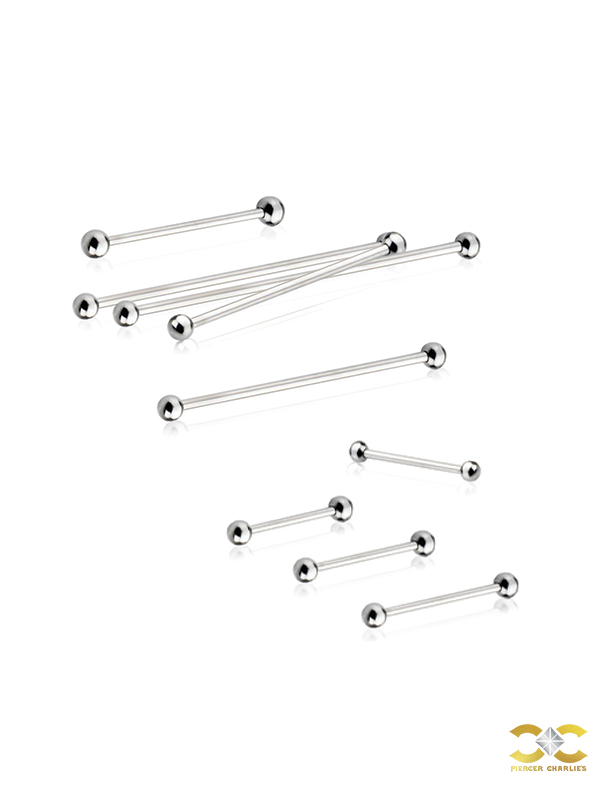 Implant Grade Titanium Straight Barbells
€17.00 – €19.00
Our Implant Grade Titanium Straight Barbells are Internally Threaded and highly polished to a mirror finish.
Suitable for Nipple Piercing, Tongue Piercing, Industrial Piercing etc
In general:
A healed Tongue Piercing will need a 14g 16mm long barbell, a healing one 17mm – 19mm.
Nipples will typically need a 14g 14mm to 16mm.
Industrial will need 14g 30mm to 40mm. You can measure in mm with a ruler, from the edge of one piercing to the edge of the other for the minimum size you can get.
Material: Implant Grade Titanium F-136
Threading: 0.9mm
Dimensions: From 8mm to 40mm, contact us for the extreme sizes
Ball Sizes: 2.5mm, 3.0mm, 4.0mm, 5.0mm
Gauge (Thickness): 14g (1.6mm), 16g (1.2mm)
| | |
| --- | --- |
| Jewellery Threading | 0.9mm |
| Labret Bar Gauge (Thickness) | 14g (1.6mm), 16g (1.2mm) |
| Barbell Length | Large, over 20mm, Small, until 19mm |
| Material | Implant Grade Titanium F-136 |
| Metal Colour | Titanium / Steel |