Fitting and Size Guide
---
Fitting instructions can be found here.
All jewellery is priced and sold as a single piece, unless clearly stated otherwise. For a pair, please select 2 in the quantity field.
Our jewellery is measured by Thickness / Gauge, Internal Diameter and Width / Length.

When picking a jewellery front, such as a Marquise Fan, we will choose the appropriate labret bar type, thickness and disc back. We will need you to provide the length only, but feel free to add a note with any request.
In general, a healed piercing can use a 6mm long bar, while a healing or slightly irritated piercing will need a longer 8mm bar to allow for swelling.
Please contact us for any concerns over sizing, and feel free to add notes.

Where able, we will also provide jewellery front (attachment) dimensions. These will be given in mm, Depth, Width, Height, will be the maximum applicable and will be only for the decorative part.
This is to get an idea of how big or small a jewellery front is (Depth and Width) and how tall it would rise from the body (Height).
Images of the jewellery worn by actual people will also be uploaded on the website in due time.
Remember, our latest work is always available on our Instagram page!
Rings are measured by their Internal Diameter and the Wire Thickness.
In case of oval shaped rings, or septum Clickers, they are measured by the pin / bar thickness and the Internal Height.
To see what size would fit you, you can measure the distance from the piercing to the end of your ear/nose in mm, and pick that size.
If you need help, get a ruler, place it next to your piercing trying to measure the distance and send us a photo.

Straight Barbells, such as nipple bars, are measured by the wire thickness and the wearable length in mm.
Curved Barbells, such as belly bars, are measured by the wire thickness and the linear width in mm between ball to ball.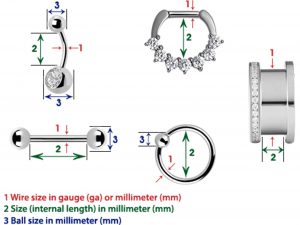 Wire thickness is indicated in g or mm (please refer to red markings)
It refers to the diameter size of the stem (thickness of the wire). We indicate this size in gauge and millimeter. For example; 14g (1.6mm)
Size (length) is indicated only in mm (please refer to green markings)
Balls or gems and all other attachments are measured by diameter and indicated only in mm (please refer to blue markings)
---
Thickness Conversion
| Gauge (g) | Thickness in mm |
| --- | --- |
| 22 | 0.6mm |
| 20 | 0.8mm |
| 18 | 1.0mm |
| 16 | 1.2mm |
| 14 | 1.6mm |
| 12 | 2mm |
---
Inches Conversion
| Inches | Millimeter |
| --- | --- |
| 3/16" | 4.5mm |
| 7/32" | 6.0mm |
| 9/32" | 7.0mm |
| 5/16" | 8.0mm |
| 11/32" | 9.0mm |
| 13/32" | 10.0mm |
| 7/16" | 11.2mm |
| 15/32" | 12.0mm |
| 9/16" | 14.0mm |
| 19/32" | 15.0mm |
| 5/8" | 16.0mm |
| 11/16" | 18.0mm |
| 3/4" | 19.0mm |
| 22/32" | 20.0mm |
Pave Ring Eternity Clicker Earring, 18ga, Small, 18k Yellow Gold is a Piercing Jewellery you can wear all the time, as a Nose Ring or at a Cartilage Piercing, a Helix Piercing, a Nose Piercing, Rook Piercing or a Lobe Piercing.
Featuring Swarovski® Zirconia stones set by hand. Hand polished to perfection.
Material: 18k Yellow Gold
Stones: Swarovski® Zirconia
Dimensions: –
Internal diameter: 5mm, 6mm, 7mm,
Gauge (Thickness): 18ga (1.2mm)
Recommended Placement: Cartilage, Lobe, Helix, Nose, Rook
Contact Us for any custom metal colour or gemstone.
| | |
| --- | --- |
| Weight | 1 g |
| Gemstones | Swarovski® Zirconia |
| Gemstone Color | Clear |
| Ring Gauge (Thickness) | 18ga (1.0mm) |
| Ring Internal Diameter | 5mm, 6mm, 7mm |
| Material | 18k Gold |
| Metal Colour | Yellow Gold |
Q & A
There are no questions yet